Once you've created a detailed buyer persona to help guide your website's content, messaging, and design, what is the next step?
Think about your buyer persona's relationship to your website, and how they engage with it before, during, and after they become a customer.
How do they prefer to discover, inquire, and learn about your offering?
A customer journey map outlines what your personas, leads, and customers will experience once they hit your site. How they interact with your brand from the first point of contact until the sale, and even after. Whether you sell product, software, service, or other offering, a customer journey map is an effective tool to understand how your leads interpret and interact with your website.
When creating a customer journey map, you can approach the process in two ways:
Focus on the entire journey and experience
Focus on a specific stage of the journey and experience
With both, it's important to identify the key interactions at each stage, and pinpoint what the user is feeling, what questions they may have, and what motivates them.
Many customer journey maps depict this information via an infographic or diagram for easy visualization.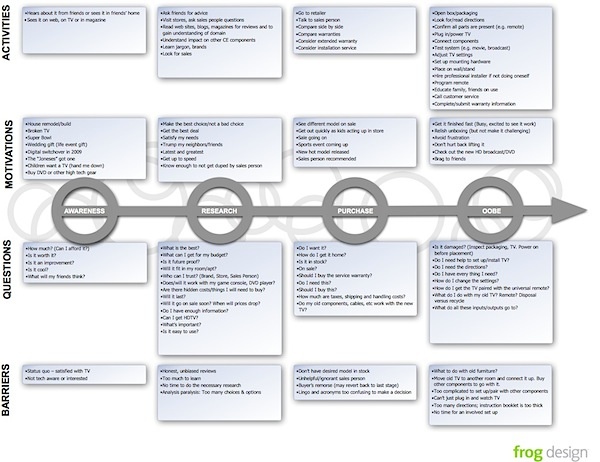 Image source
There is no one way to create a customer journey map. Choose the format that works best for your brand. Later in this post, we'll look at more ways to create a journey map. First, let's dive into why your company should consider using a customer journey map.
The Importance of Using a Customer Journey Map
Mapping out your customer's journey allows your organization to understand exactly how a person is feeling at each point of interaction with your brand; what key questions they may have (that perhaps you aren't currently answering), and their specific needs at each stage of their journey.
Using a customer journey map, your entire organization gains a better understanding of not only your customer, but how your website affects their decision making process.
For more on the benefits of a customer journey map, watch this video.
The Marketing Team
learns more about the customer than a buyer persona alone can tell them. Insights into the type of questions the customer seeks to answer, and the opportunities to improve and optimize their experience in finding those answers, helps align copy, CTA's, and resources in a more effective way.
The Design Team
Gains access to the before and after: How did the customer arrive, and where are they going next? This insight helps build a stronger, more optimized design approach and helps aid the natural flow and browsing behavior of the customer.
C-Suite
Gains an understanding of how each customer moves through the website and sales funnel, allowing them to better understand where and how they can optimize for greater results.
Overall, your team will be able to pinpoint the exact places where your user experience falls short. Identifying:
Channel Changes:

What exactly is happening when your lead is arriving from or going to a different channel associated with your website. How can you make this transition smoother?
Device Changes:

How does your customer's experience change when using different devices to browse your website.
The Stages of a Customer Journey Map
Your business's journey map should be centered around the buyer journey stages: Awareness, consideration, decision, and after purchase.
From there, dig into each stage. Explore the following to ensure a seamless transition from one stage to the next: